Old Capitol Art Fair: Saturday 10am - 5pm and Sunday 10am - 4pm downtown on the Old State Capitol Plaza. Artists, entertainment, children's tent, and more. www.socaf.org

Summer Jamboree: Saturday in Lincoln Park from 11am - 3pm. Face painting, zoo animals, create your own t-shirt, inflatable play area, climbing wall. Bring lawn chairs and blankets. Admission is free. Call 753-2800 or visit www.springfieldparks.org for more info.

St. Andrew's Society of Central Illinois Highland Games and Celtic Festival: Saturday in Chatham Community Park starting at 8am. $5 for adults, $3 for seniors and children 6-17. Children 5 and under and veterans are free.

Doug Thompson & Chris Schlicting: Friday and Saturday at 7:30pm and 9:30pm at Donnie B's Comedy Club. Call 391-JOKE for tickets or visit www.donniebsofspringfield.com

Tim McGraw/Luke Bryan/The Band Perry: Saturday at Verizon Wireless Amphitheater in St. Louis. Tickets at www.livenation.com or 800-745-3000.

Westchester Yard Sale: Saturday in the Westchester neighborhood 7am - 1pm. Shoppers can enter the Westchester neighborhood via Lindberg Boulevard from Veterans Parkway or Chatham Road, or via Westchester Boulevard from Chatham Road.

Movies Opening This Weekend
Pirates of the Caribbean: On Stranger Tides
Jane Eyre

At the Route 66 Drive-In: Tangled & Pirates of the Caribbean: On Stranger Tides on one screen and Fast Five & Paul on the other.

For movie information visit www.amctheaters.com. For Route 66 Drive-In information visit http://www.route66-drivein.com/

The E Buzz for May 20, 2011

"Idol" Finale Set
Is this "American Idol" or "Nashville Star" we're watching? The final two for the finale of "American Idol" will be country crooners Scotty McCreery and Lauren Alaina. Haley Reinhart was sent home on last night's show. Tuesday night the final two will perform in a 1-hour show. Wednesday night the winner will be revealed in a 2-hour episode.


Bono To Perform On "Idol" Finale
Maybe. The "New York Post Page Six" says that Bono and The Edge are in very early talks to perform on the season finale.

Still No Boss on "The Office"
Even after the season finale of "The Office" last night we don't know who will be the new boss. Several interesting candidates applied for the position including billionaire Warren Buffett, Jim Carey, and James Spader, but you'll have to wait until next season to find out who the next boss will be.

Schwarzenegger Delays Movie Comeback
A few weeks ago we heard Arnold Schwarzenegger was shopping around a possible new "Terminator" film. Now he's put all of that on hold. A rep for Schwarzenegger says the former Governor of California will be turning his focus to personal matters and won't be committing to any production schedules for the time being.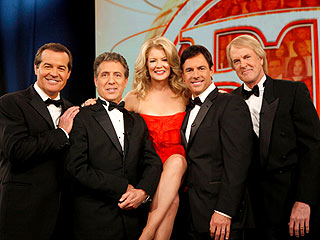 Good-byes
Katie Couric said so long last night on her last "CBS Evening News." During the show Couric looked back at the stories she had covered during her time. Tonight Mary Hart will anchor her last "Entertainment Tonight" after hosting the show since 1982. Nancy O'Dell will take her place.