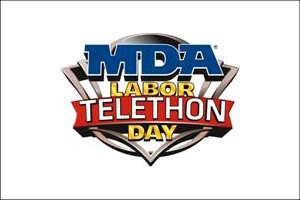 MDA Telethon Does Just Fine Without Jerry
Eyebrows were raised when it was announced that Jerry Lewis wouldn't be part of this year's Muscular Dystrophy telethon. More eyebrows were raised when it was announced that the telethon would be shortened to only six hours. Well it all worked out just fine. The MDA telethon raised $61.5-million dollars Sunday...up by about $2.5-million over last year's 21 and a half hour telethon. In the absence of Lewis, the hosting duties were split among celebs like Nancy O'Dell, Ryan Seacrest, Jennifer Lopez, Steven Tyler, and Whoopie Goldberg.

Bush Wedding Over the Weekend
George W. Bush's niece Lauren Bush got married Sunday in Colorado. Her groom was the son of Ralph Lauren, David Laruen. Now Lauren will be known as Lauren Bush-Lauren.


Last Season for Regis Has Begun
"Regis & Kelly" kicked off their fall season yesterday, but more importantly it will be the last season for 80-year-old host Regis Philbin. His final season will include clips of some of the funniest moments of the last few decades and video tributes from fans. After hosting the show for 28 years, a replacement hasn't been named. Philbin has said he'd like to see Tom Bergeron, host of "Dancing with the Stars," take his place.