Is Nicholas Cage a Vampire?
If you look at the photo, the resemblance is undeniable. But Nicholas Cage a vampire? That's what an antique dealer, who's selling the photo on ebay, believes. The photo is a Civil War era picture of Lieutenant G.B. Smith, and Jack Mord says, "Personally, I believe it's him and that he is some sort of walking undead vampire, et cetera, who quickens/reinvents himself once every 75 years or so."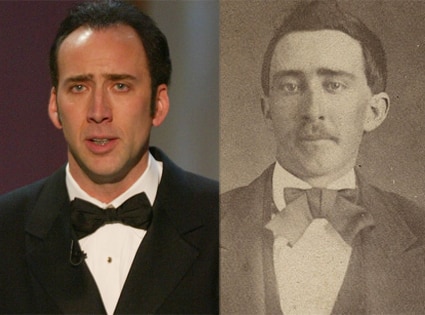 Chaz Bono Gets Through Fist week on "Dancing with the Stars"




Premiering Tonight on TV
CBS: "NCIS" at 7pm
"NCIS: Los Angeles" at 8pm
"Unforgettable" at 9pm
NBC: "The Biggest Loser" at 8pm
FOX: "Glee" at 7pm
"New Girl" at 8pm
"Raising Hope" at 8:30pm
ABC: "Body of Proof" at 9pm

Here's a preview of "NCIS" and "Unforgettable."




Netflix Continues To Stir Things Up
After angering millions of customers over the summer by raising prices and splitting their DVD and streaming services, Netflix has seen announced another change. The DVD service will now be called Qwikster and will be the same DVD by mail service you're used to with the red envelopes and everything. In addition, Qwikster will offer video game rentals. Netflix will be the name of the streaming-only service. Annoyingly, you will have to have two separate subscriptions with two different logins, etc.