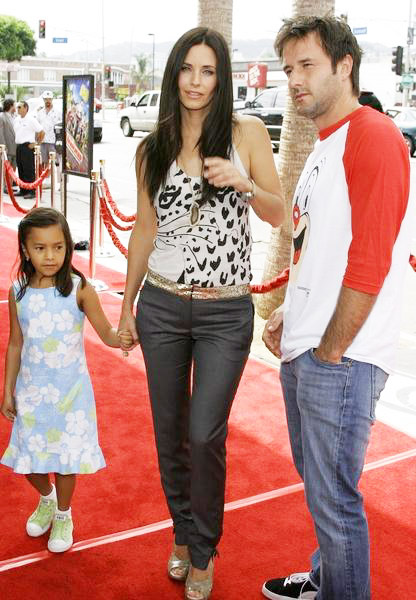 Courtney Cox and David Arquette Separated
After eleven years of marriage, actors Courtney Cox and David Arquette have announced their separation. It actualy "dates back for some time". Their statement also said, "We remain best of friends and responsible parents to our daughter and we still love each other deeply."

Jimmy Smits Show Cancelled
It's official. NBC has cancelled "Outlaw" starring Jimmy Smits. According to Deadline.com the cancellation is immediate, and this Friday instead the network will air a second hour of Dateline. There are still four episodes of the show that will air on Saturday nights at 7pm.

Screech's House in Foreclosure AGAIN
Dustin Diamond is losing his house again. This is the third time since 2006 the "Saved By The Bell" actor has been in danger of losing his home. TMZ says Wells Fargo wants a payment of more than $278-thousand immediately.


A Cult Classic Gets Animated
Chances are you either loved or hated "Napoleon Dynamite". If you loved it, then you'll want to tune in for the animated series. FOX has ordered six episodes of the show, and it will be voiced by the original actors from the film.






Fran Drescher Getting a Talk Show
The lady with quite possibly the most annoying voice in Hollywood is getting a talk show. It's not a done deal yet, but Fran Drescher is getting a free trial. She'll be on for three weeks in six major markets. If the show does well, the show will debut nationwide in the fall.

"Sound of Music" Family Reunion
It's one of the most beloved musicals of all time, and Oprah's hosting a reunion. The cast of "The Sound of Music" will appear on Oprah October 29th as the film celebrates its 45th anniversary. November 2nd the movie will be released on Blu-ray for the first time. Here's a sneak peek...



Faith Hill Gets Spoofed
You know you've really made it when you get spoofed on SNL! That's what happened to Faith Hill over the weekend when her Sunday Night Football song was parodied.