"Real Steel" is the Real Deal
Every review I've seen calls it Rockem Sockem Robots on the big screen, but that didn't matter. Hugh Jackman's "Real Steel" slayed the box office competition this weekend with $27.3-million. "Ides of March," the new George Clooney film, came in second with $10.4-million. "Dolphin Tale" was third with $9.2-million.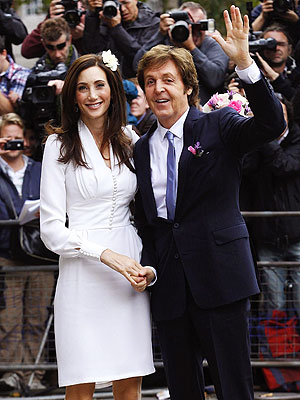 He Loves Her, Yeah, Yeah, Yeah
Paul McCartney is once again a married man. Sir McCartney married Nancy Shevell Sunday in London. The bride wore an ivory dress, and the groom wore a blue suit. Both were designed by the groom's daughter, Stella McCartney. Guests included Ringo Starr and his wife, George Harrison's widow, and even Barbara Walters (the bride's cousin).

"Monday NIght Football" Openers Will Be Different Every Week
When you tune in to watch the Bears take on Detroit tonight, you won't be hearing Hank Williams, Jr. Instead the opening will be done by Detroit's Selected of God gospel choir and soul singer Jimmy Scott singing "Ain't No Love in the Heart of the City." According to ESPN's Bill Hofheimer, the opening will be different each week for the rest of the season.

"The Simpsons" Back for Two More Seasons
Looks like Homer, Bart, and the gang will be back. FOX has renewed the animated series for its 24th and 25th seasons. No word on the details of the deal, but it was reported that voice cast was being asked to take a 45% pay cut.