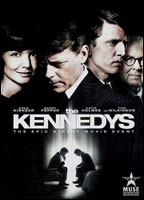 No "Kennedys" on History Channel
The history channel has pulled the plug on it's eight-part miniseries "The Kennedys". Rumors are saying the show will not air on the The History Channel due to political pressure from the Kennedy family. Greg Kinnear stars at John F. Kennedy, and Katie Holmes stars as the former First Lady. Deadline.com is reporting the miniseries could air on another channel and that it's being shopped to Showtime right now.

Baby Number Four for Posh and Becks
Congrats go out to Victoria and David Beckham. They are expecting their fourth child this summer. The couple already has three boys aged 11, 8, and 5.

Non-Musical "Wicked" Coming to TV...Maybe
Salma Hayek, the actress behind the show "Ugly Betty", may be bringing a new show to TV. Hayek it working with ABC to bring a miniseries to the channel based on the book "Wicked: The Life and Times of the Wicked Witch of the West". This is the same book that inspired the incredibly popular Broadway music, however, the TV miniseries would not be a musical.

"Jersey Shore" More Popular Than Ever
If you've been hoping to see "Jersey Shore" go away, keep hoping. It won't be happening any time soon. In fact, the popularity of the MTV show is bigger than ever. Last Thursday was the season three premiere, and 8.5-million people tuned in making it the most watched telecast of any series in the history of MTV.